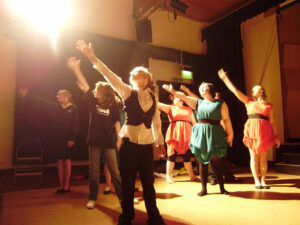 Congratulations to all students who participated with such enthusiasm and commitment on Saturday 1st August 2009 during our Summer Variety Show. The TADAA cast played to a full house of 120, presenting a mixture of song, dance and of course dramatic scenes and plays. It was an incredibly long day with some Act II students clocking up 12 hours in the building, but all the hard work and rehearsals paid off, and the audience were treated to some thought-provoking and at times hilarious performances.
Towards the end of the show the director and principal, Bryony Rose, presented two awards to students she felt had made an outstanding effort during the course of the year at TADAA. Charlotte Hall from Act I and Laura Burrows from Act II were the worthy recipients, though it was a tough decision to make.
Many thanks to the cast, crew and parents for making the show such a success. See you next year!