We have a small team of trusted, committed staff, all with experience in Performing Arts. Our team all have an Enhanced DBS under the umbrella of TADAA and always ensure that the safety and wellbeing of the children is their priority.

Principal Bee
Bryony Rose de Vries has been a drama teacher for nearly 20 years. Following her degree in Media and Performance, she qualified as a teacher and worked as a Head of Drama in 3 different Secondary Schools and a Sixth Form College, directing shows and Rock Challenge performances and getting Outstanding lessons for every OFSTED inspected lesson since the year 2000. She created the limited company TADAA in 2008 and opened classes in Waterlooville, Chichester and Gosport, and took numerous students through their LAMDA Acting exams as well as offering an annual summer show and festival competitions for academy students. She also teaches home schooled GCSE Drama students and has enjoyed seeing the business evolve to encompass all the performing arts after the arrival of Helen Wallis in early 2017. Bee teaches our Drama Classes and helps at TADAA's other classes.
Teacher Helen
Helen has been working as a professional singer and dancer for 15 years. She began learning to dance at the age of 2 in all genres which is where her inspiration to teach children young comes from. At the age of 18 Helen embarked on the UK tour of "FAME" where she played the lead role of Carmen, following this she worked as a singer and dancer at Alton Towers hotels which quickly led to another UK tour of "Best of the West End". More recently Helen worked in Cyprus touring the country as a singer and dancer and then moved onto cruise ships. On the ships she worked as a singer and then got promoted to Choreographer and Cruise Director. Now, back in England as a full-time mum she teaches TADAA's Musical Theatre and Tots Classes, teaches private piano and singing lessons and she teaches line dancing and aerobics in retirement homes! Helen's recent choreography credits include Grease for Fareham Musical Society and Oliver for RARE Productions! Helen loves everything about TADAA especially the family feel the school has and the passion Bee has as Principle of the school.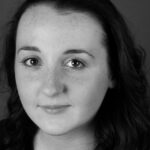 Instructor Ciara
Ciara Ayre was one of the first students at TADAA in 2008 and in 2017 she became a student teacher. She has just completed a BTEC Level 3 Diploma in Acting, achieving a grade of Triple Distinction* (D*D*D*). She auditioned for Drama School this year and received offers from some but decided to decline them to have a gap year in order to gain more experience and carry on with TADAA. She is working towards her Grade 8 Singing Exam as well as her Teachers Diploma in Singing and in February 2018 won the award for 'Most Outstanding Musical Theatre Performer' at the Portsmouth Music and Drama Festival. She is currently rehearsing for a production of Grease with Fareham Musical Society and in November she will be performing in Southsea Shakespeare Actors production of The Tempest as 'Miranda'. Ciara organised TADAA's 2018 Fundraising Show with former Instructor Sophie and they raised £625 to buy headset microphones for the school. Ciara helps to teach in TADAA's Musical Theatre, Drama and Tots Classes. Unfortunately, Ciara will be leaving TADAA in September as she has gained a place on an Intensive Acting Course in Stratford-Upon Avon. We wish her the best of luck and we hope that she will return to help with TADAA whenever she can.
Instructor Katrina
Katrina Richards is our newest member of the team and just like Ciara she was once a student at TADAA where she developed her love for the Performing Arts. She began working as an Instructor in 2014, working on and off to help TADAA during shows and peek performance times, but now she will be here at TADAA every week. Katrina has completed a BTEC Level 3 Extended Diploma in Acting achieving a grade of Triple Distinction* (D*D*D*) and has worked with local theatres such as the Kings Theatre and Chichester Festival Theatre, being offered a internship with CFT when she was only 16! Katrina has directed short plays as well as Physical Theatre performances and is currently writing a play, that she intends to direct and make a reality.
Our Instructors Ciara and Katrina are just at the start of their careers and we are so happy that they have chosen to be with TADAA and help the company develop further, while also developing themselves as both performers and practitioners.