Where Passion Grows and Talent Shines!
1. Quality of Teaching
Before TADAA, our Principal Bryony was an outstanding teacher in several Secondary Schools. Bryony received OFSTED inspections across three different schools and recorded Outstanding lessons across the board. Bryony insists on that rigorous quality today, fast-paced, quality lessons with exciting, motivating activities geared to all abilities.
2. Consistency
With TADAA you get consistency. Bryony has taught the classes for the last 10 years, with only the briefest breaks to have children. Consistency is important to build relationships and trust. We like to think our students stay with TADAA due to our consistency.
3. Excellent Staff
We also have two teachers educated to degree standard. Helen, who joined in 2017, enabled TADAA to offer a greater breadth of Performing Arts subjects, and with her professional expertise having worked as a professional singer and dancer for 15 years. Her most recent experience includes working onboard MS Marco Polo and MS Astor Cruise Ships as a production Singer and Dancer and then being promoted to Cruise Director. She has also toured the UK with two musicals and went on to tour Cyprus. Helen has choreographed shows for a number of companies including Hampshire Youth Theatre, Fareham Musical Society and CMV Cruise Line. More recently, Helen graduated from Portsmouth University with a First Class Honours degree in Childhood and Youth Studies with Psychology: a degree encompassing teaching and safeguarding methods for children. It is reassuring to know that both teachers have a wealth of experience and knowledge as both teachers and performers in their subject areas.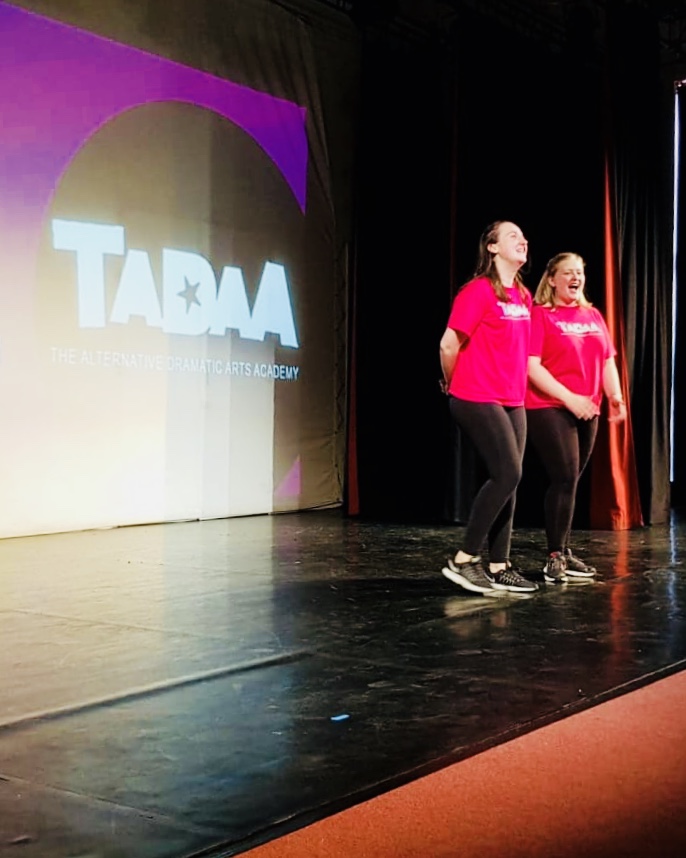 Our two instructors are TADAA Alumni, one of them has been with TADAA since it began. They both understand the ethos and rigour expected in class, and that fun is as important as achievement. Ciara was one of the first students at TADAA and has been a keen performer since a very young age. Ciara is very dedicated and committed to TADAA and making it the best it can be. In June 2018, Ciara organised TADAA's Summer Fundraising Show with former instructor Sophie, and the show proved to be a success and raised £625 to buy headset microphones for the company. Ciara auditioned for Drama School and received offers from 3 different schools but decided that the best option for her was to have a gap year in order to help in the growth of TADAA. Our newest member of the team is our other instructor, Katrina. Katrina was a student for many years before becoming an instructor at TADAA. She then left the company in 2015, returning annually to help shows and festivals. In both our shows in 2017, Katrina helped to direct several pieces including the winning piece in our Summer Devising Competition. Since then, Katrina has directed several pieces of Drama and has shown a strong talent in directing as well as acting. She has also written short plays and pieces of drama, showing a passion for creating new work. Katrina has decided to return to TADAA to help the company develop further. Both our instructors have completed their BTEC Level 3 Extended Diploma in Acting at South Downs College and both received a final grade of Distinction* Distinction* Distinction* (D*D*D*).
4. Your Child's Safety is Our Priority
All teachers and instructors have an enhanced DBS certificate held under the umbrella of TADAA. During lessons, our teachers are constantly thinking about the safety and wellbeing of your child and will always do their best to ensure your child feels both safe and happy.
5. Passion
The combination of teachers and instructors we have right now is exciting. There is enthusiasm and care poured into everything we do. We actively communicate with one another daily, bouncing ideas off one another, and meeting to dream up the next performance or 'Pop Up Class'. We have invested ourselves emotionally into building what we think is the best extra-curricular Performing Arts Academy in the area. We hope when you come along you can share our enthusiasm and we can offer your child a terrific experience.